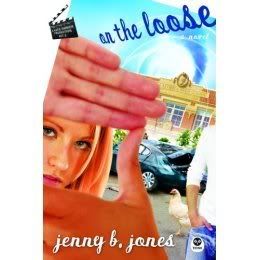 What could be better than "In Between: A Katie Parker Production"? Well, only "On The Loose: Act 2"!! And it is!
Katie Parker has been with her foster parents for six months now. She has finally settled in as best as she can, and is almost enjoying living with Millie and James. Her foster grandmother, Maxine, is cool in small doses...and so is the church youth group that she is "forced" to attend.
Then a tornado hits the town of In Between, and Katie's life turns upside down. Living a life that would rival Job of the Old Testament, Katie's fledgling curiosity about God fizzles in the wake of the storms that hit her foster family.
She finds out she wants to belong with the Scotts---her overprotective, perfectionistic foster mom, her scholarly and sarcastic foster father/pastor, and her slightly insane and feisty foster grandmother. But suddenly it feels as if they might not want her...
And then Amy, their long lost daughter returns.
Throw that in with Katie's now arch enemy Angel Nelson, the school hottie who has more than just his eye on Katie, and false accusations about theft dogging her heels...and you can see why Katie needs God in her life now more than ever.
But can KATIE see that? Or has all of the turmoil and trouble pushed her even farther away from belief in Christ?
Filled with Jenny's trademark wit and humor, "On The Loose" had me laughing through tears and wishing I could crawl into the story and rise to Katie's defense. This young woman has worked her way into my heart, and I'm sure she will yours as well if you FINALLY pick up a copy of this book!
I give "On The Loose" six out of five bookmarks, with a tiara for a charm...in hopes that Katie and all of us will realize that we are God's princesses...daughters of the King. And then we'll go out and spread the word, through any means we can. Even a fun and wacky series like "A Katie Parker Production".
Don't miss my
review
of the first book in this engaging series for teens (of all ages!) This is top notch funnybone fiction...or as I like to call it, "Lemonade Lit", since we learn how to take life's difficulties and let God turn them SO sweet!
Happy Reading!
Deena
P.S. Don't forget to check out Jen's blog...she is SO funny!