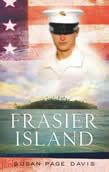 I had heard a rumor that Susan Page Davis was as good as Dee Henderson...that was almost as good as double dog daring me to pick up a copy and try it out.
Know what?
That reviewer was RIGHT! I LOVED this book!
Lt. George Hudson is running from something...something painful in his past. To escape, he requests and gets assigned to duty on Frasier Island...a tiny scrap of rock in the Pacific hardly worth noticing.
Three years later, Ensign Rachel Whitney longs to work under the imfamous George Hudson, and requests assignment at the Frasier Island post. Unknown to her, what they are manning is more than just an outpost.
At first, the two of them get along like oil and water. Pierre Belanger is the stabilizing factor between them, and he strikes up a friendship with Rachel that makes her time serving on Frasier more bearable...even enjoyable.
But what starts out as friction turns into something else...what is that, you ask? Well, you'll just have to read the book to find out, won't you?? And what is it that makes this tiny, remote island so vital to national security...well...yeah, you know the drill by now:-)
Susan Page Davis is most definitely on par with my all time favorite suspense maven, Dee Henderson...so if you love Dee...you'll love Susan! I give "Frasier Island" five out of five bookmarks with a tiny American flag as a charm...love our men and women in uniform!!
Happy Reading!
Deena