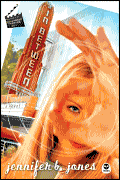 I absolutely adore teen lit, especially relevant, readable teen lit. So I'm always ecstatic when I find a new author to introduce to you.
Meet Jenny B. Jones, creator of Katie Parker! This book is amazing, and so fun to read. And it's the first in a series of at least three novels; isn't that just great news!!
Katie Parker is a teen caught in the foster system. Mom is in prison, dad is in absentia, and Katie feels in limbo--so it's rather appropriate that her first foster home placement is In Between, Texas.
Placed in the home of James and Millie Scott, Katie feels she will just be biding her time until she is returned to sender, so to speak. But what Katie doesn't know will surprise both the reader and Katie...pleasantly so.
And the surprises just keep on coming! We meet Mad Maxine, Millie's madcap mom; Angel and company, Katie's new friends--so to speak. And then there's Francis and her clan...which I will leave for you to discover.
Because I just totally know you're gonna wanna snap this lit up, know what I mean! Oh, sorry...guess I've been caught up in Katie's world a little too long:-)
"In Between" is purely worth five out of five bookmarks...and it rivals Maggie for my top spot in teen lit. Moms and daughters both can enjoy being introduced to Katie's world. I know my daughter is going to LOVE meeting Katie...once she can pry this one out of my hands!
Happy Reading!
Deena