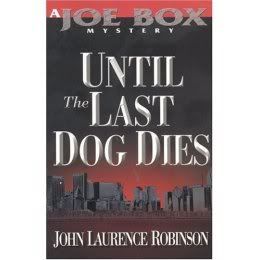 This is gritty, hard-boiled detective stuff, this is.
And I love it!
Joe Box is a private investigator. He served in VietNam. He's recently become a believer in Christ, and it appears in the nick of time.
Because someone is killing the members of his platoon, one by one.
And it would seem Joe is next.
Mr. Robinson has created a wonderful character in Joe Box. He's tough, but a big softy when it comes to his mangled cat, Noodles. He's suffered loss, but has a new lady love who inspires and teaches him the ways of God.
And he has a nemesis in the police department that I'd love to slap the snot out of...oh, did I say that out loud:0)
This is the first in the series...unless you count the original first novel which is out of print and which the publishing company won't release so I can't read it...grrr...
"Until the Last Dog Dies" is excellent guy fiction. I think it's on par with Robert B. Parker's Spenser, or even Jesse Stone. Great guy lit, without the "ick" factor. I look forward to reading the other titles in the Joe Box series.
"Until the Last Dog Dies" gets 4 out of 5 bookmarks from me. Pick up a copy for the guy in your life that loves to read...just be sure to read it first:-)
Happy Reading!
Deena