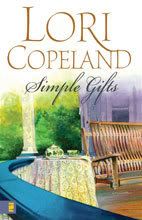 I keep finding books that I can so TOTALLY relate to! "Simple Gifts" by Lori Copeland is another one. This is a love story unlike any other, and I thoroughly enjoyed my journey with Marlene "Marley" Moss Queens!
Marley is born to parents who are unable to be parents...because they are both mentally challenged. Because of circumstances beyond her control, she grows up as the town scandal, and as soon as possible runs from where she grew up and into a life she believed she wanted.
But now Marley is a grown woman with a child of her own--and grandchildren even!! Circumstances in her life have brought her back to her roots, and once again a town scandal is heating up, with Marley smack in the middle of it. Can she make up her mind about how she feels about the entire mess, and in time to make the right decision on what to do?
Added to the mix is Marley's one time love, Vic Brewster, now acting mayor of the town they both grew up in. He's now widowed, and she's....well, she's a mess. Can she ever admit to the past in order to have a future?
What Marley learns about love and God's grace is marvelous...and a journey I'm so glad I didn't miss. While I didn't grow up as the town scandal, I did grow up as the family secret, and a life like that can mess with your head and heart.
Join Marley, Aunt Ingrid, Joe, Vic, and the rest of the town of Parnass Springs as they all discover what they are truly made of, and what love really is all about.
"Simple Gifts" is anything but simple...but the journey is well worth it. I'm giving "Simple Gifts" five out of five bookmarks, with a little lavender sachet charm...in memory of Aunt Beth. I think she'd have been proud of how little Marley turned out:-)
Happy Reading!
Deena