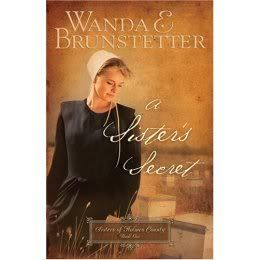 About The Book: Grace is the oldest sister in the Hostettler family. Having put her rumschpringe (running around years) behind her, she has returned to Holmes County, joined the Amish church, and begun a new life. for the past four years, everything has been going fairly well, until the day she sees an English man who knows enough of her past to jeopardize her future. Will Gary Walker's passion for Grace destroy more than one life? Amish man Cleon Schrock is planning to marry Grace, but ignorant of her past. Will love and faith triumph over shame and deception in Holmes County?
About The Author: Wanda Brunstetter is a CBA award winning author of many novels, and is known for her Brides of Lancaster County series. She writes authentically about the Amish way of life, and is passionate about helping "Englishers" understand the differences between lifestyles. Wanda has also begun a children's series of Amish stories entitled Rachel Yoder books. Visit her website at wandabrunstetter.com for more information.
My Review: Amish novels are just not my thing. Wanda's story of Grace and her rumschpringe years is well crafted, and authentic both in detail and in voice. This particular novel doesn't give a nice, clean ending to the mystery surrounding the attacks on Grace's family and community. But it does give a satisfying close to Grace's story. Look for Book #2, "A Sister's Test" to be out soon. I give "A Sister's Secret" 3 out of 5 bookmarks, simply because it wasn't my cup of tea, but is highly worth reading if you enjoy Amish novels.
Happy Reading!
Deena