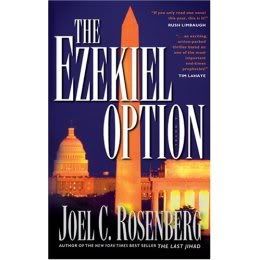 Get ready for the next ride on the Rosenberg rollercoaster! "The Ezekiel Option" deals with a topic we face in today's global world--an alliance between Russia and Iran.
Jon Bennett and Erin McCoy once again find themselves in the heat of the moment, but this time with grave consequences. One of them may be dead, and the other dying...and the US has been lured into a conflict with Russia that could very well change the face of world politics.
When Russia accuses us of shooting down a plane without provocation, how can we defend our actions? When will Al-Ahkbah strike again, and where? Will the world listen to Dr. Mordecai, or turn a deaf ear?
Based on rock-solid Biblical prophecy, this installment in the Rosenberg series has more Scripture and more interpretation than the other two. You'll be tempted to skip over the Bible passages for the action. One word?
DON'T. You'll get an education that is worth more than anything any school can teach you.
Ever wonder how Russia could align with Iran? This book answers it.
Ever wonder how the US could ever turn her back on Israel? This book answers it.
Ever wonder how the end of days could be ushered in, literally overnight?
This book doesn't answer it, but it comes THIS close to it!
Once again, I give "The Ezekiel Option" 6 out of 5 bookmarks, and urge you to get your hands on a copy. You'll be intrigued, entertained, and education...all for the price of 14.99!!
A small price to pay to be prepared and to have a deeper understanding of God's Word and today's political climate.
Happy Reading!
Deena