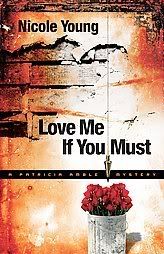 I'm a girl who loves a mystery. I'm also a girl who loves to discover a new author. But right now, I'm kind of at a loss with this one...
"Love Me If You Must" is a debut novel by Nicole Young, the first in the Patricia Amble series. Patricia, or Tish as we find out, is a young woman haunted by her past. Not only that, it appears that she is haunted in her present as well.
Tish is a home restorer/renovator. She buys dilapidated or neglected houses, moves in temporarily, restores the house, then sells out and moves on. So, her life is constantly in transition.
Her recent purchase in Rawlings is not what she expected, and it seems she's getting more than she bargained for. The basement has her spooked, her cop neighbor has her bugged, and her other neighbor, David, has her in his sights for something. He claims it's marriage...she thinks it's murder.
What has me puzzled is the lack of satisfaction I feel at the resolution. Too many strings are left dangling, and there isn't any healing for Tish. Normally, especially in a Christian novel, you'd expect to find God and some sort of revelation for the hero or heroine.
But Tish leaves behind her latest project, unfinished. And that's what this story feels like...an unfinished project. I can't really say I didn't enjoy it...but it just wasn't satisfying. Kind of like eating something, and then finding out that wasn't what you were craving after all.
We've been promised a sequel...maybe that will tie up those loose threads that are bugging me. Either way, "Love Me If You Must" gets 3 bookmarks from me...but no bonus. I'm still not sure about this one...so,
Read it if you must. Then tell me what YOU think. And hang in there with me...I hear a sequel is coming, and I'm eager to see what is next!
Happy Reading,
Deena