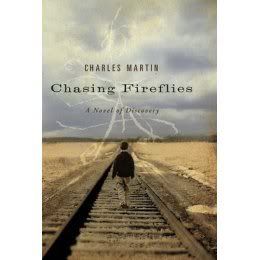 Sometimes you read a story that takes you places you didn't realize you needed to go. And it creates feelings and images inside your heart that the author may have intended, or may not. That is the power of writing.
"Chasing Fireflies" by Charles Martin is that kind of story. It grabbed hold of me from the first page of the prologue and didn't let go til the last page was turned. And I'm not the same woman I was when the story started.
Chase Walker is a news reporter called upon to solve the mystery of the boy abandoned at the train tracks. We learn early on how he got there, but we don't know for certain why, or what came before that day. He is a boy who is broken, and many would see him as beyond repair.
But he awakens something inside Chase that needs to come back to life. The need to know the truth. About the boy; about Chase; and about the most important man in Chase's life--Unc. Soon the boy joins the makeshift family that has been Chase's family all his life...Unc and Lorna, Chase's foster parents, and his "foster cousin" Tommye.
While running down the truth about the boy, now known to everyone as "Sketch", Chase is also running down the truth about his foster father and the crime he was committed of long before they became family. He knows the charges were false; he just can't prove it.
Soon, each thread of this gorgeous story overlaps and intertwines, until the truth is finally brought to light, and it isn't the truth you assumed...it's far, far better.
Inside all of us is a desire to know who we are...who we really are. To know our Father...and to know we are loved and wanted, just for being ourselves. Unc tells stories, weaves parables, and has "Willie-isms" that speak to that hollow in all of us.
Chase's pursuit of the truth about who he is ultimately is our pursuit. To the reader who comes from a broken background, a past that feels incomplete or false...this is a healing tale that surprises and pours soothing balm on those wounds. To anyone who has felt they were not enough, insufficient, or simply wondered, "Who am I?", this story is a beautiful illustration of being loved...just because.
I adore Charles Martin's slow, southern poetry. This man is highly gifted of God, and his pen paints images that illuminate God's truth...but it is a journey. You can't speed read through his novels...it must be taken in one incredible word at a time.
The only negative I can say is...I don't know how long it will be until I have the pleasure of reading another of his magnificent stories. I only hope it won't be long. But the great thing about it--"Chasing Fireflies" will stay in my heart for a long, long time.
As someone who has long had a broken place inside her heart...thank you, Mr. Martin, for allowing God to use you in my life.
"Chasing Fireflies" gets six out of five bookmarks from me...this is high quality Christian fiction...and a firefly charm from me...you won't want to miss Unc's version of why God made fireflies!!
I'm voting "Chasing Fireflies" the best contemporary fiction of 2007!!
Happy Reading!
Deena