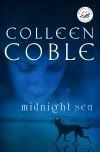 Colleen's Hawaiian series isn't my favorite, but I must admit...Midnight Sea did not disappoint. And I think this is her most ambitious novel to date.
She opens this story with a flashback. A hippie commune...friends of the flower child era living and loving together. A murder that masks as a disappearance. What is it all about?
Flash forward to present day Hawaii. Lani Tagama is a new creation in Christ. A brand new baby believer. And she is stumbling along in her new found faith, and stumbles into a smuggling operation being run somehow through her Aunt Rina's coffee bean business.
She gets in the line of fire and in a moment she loses her sight. Not only does Lani lose her physical sight, but it causes her to stumble in her spiritual walk as well.
Many questions crop up: why does God allow bad things to happen to His children? Can a new believer really be forgiven of their colorful past? And even if God forgives, can others forgive?
Ben Mahoney, an ex-cop with a grudge, and his seeing eye dog-in-training, Fisher, partner together to help Lani learn to cope with her blindness. In the process, he finds holes in what he believes as well.
Past friends, past enemies, and past events all come together as the mystery of who's behind the smuggling is revealed. And the answers to Lani's questions are also given...nothing surprising there, but it is a wonderful reminder to every believer--just what it means to be truly forgiven and a child of the King.
Midnight Sea gets four bookmarks from me. Looking forward to getting back to Rock Harbor, though!! The orchids of Hawaii give me a headache:-)
Happy Reading!
Deena