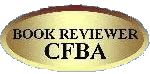 This week, the

Christian Fiction Blog Alliance
is introducing



A BIGGER LIFE

Navpress Publishing Group (January 15, 2007)

by



Annette Smith
ABOUT THE AUTHOR:
In 1997, Annette was working as a home health nurse. She traveled the back roads from house to house, caring for ill and injured, homebound people. Because of her unique position in the lives of relative strangers, she often found herself bearing solitary witness to intimate behind-the-scenes situations full of grace and meaning. The desire to honor both a particular patient and a poignant scene involving the woman and her husband prompted Annette to write a fictionalized story, The Anniversary.
That first story appeared as a column in the Houston Chronicle newspaper and as an essay in Today's Christian Woman magazine. Later it became a chapter in Annette's first and best-selling book of short stories, The Whispers of Angels, that has sold more than 100,000 copies
Since then, Annette has penned four more books of stories, two volumes on parenting, and the Coming Home to Ruby Prairie trilogy.
Annette and her husband Randy, a High School teacher and coach, make their home on a wooded lot in Quitman, Texas. They are the parents of two young adult children, Russell and Rachel, both out on their own. Wally, a grateful, rescued mutt provides warmth and entertainment and keeps the Smith's empty nest from feeling too lonely.
In addition to writing, Annette continues to serve part-time as a registered nurse. She finds the people she works with and the patients she cares for provide great inspiration for her fiction.
ABOUT THE BOOK:
Joel Carpenter did not plan for his life to turn out like this. He never meant to be a single dad, working at a hair salon in Eden Plain, Texas. But after making a careless choice four years ago, his marriage was permanently shattered. Now at twenty-seven, he finds himself juggling custody of his preschool son with Kari, the ex-wife he still loves, and sharing Sunday dinners with a group of other single dads.
Joel regrets the choices that brought him to this place, but it's not until the worst happens that he learns how much he still has to give. In the midst of deep tragedy, he learns that forgiveness is way more important than freedom. Hopefully it's not too late!
A BIGGER LIFEis a story of love in the midst of heartache, and friendship in the midst of real, everyday life.

My Review:
My first encounter with Annette's writing was in her series, "Coming Home to Ruby Prairie". I fell in love with Charlotte and her girls, so much so that I was disappointed to discover Annette was moving on to other projects.
When "A Bigger Life" was released, I snatched up a copy. I just had to know what this project was going to be about. I was pleasantly surprised.
I read it in one night. It was THAT good...
Joel Carpenter is our hero, of sorts. He truly is a hero with feet of clay. What makes "A Bigger Life" so interesting is that the story is told from Joel's point of view, a rarity in women's fiction.
Joel is a member of a group of single dads, whom we meet in this novel. He and his son, Colton, have weekly and monthly get-togethers at their home. Abe is Joel's best friend, also a divorced dad with a daughter, Sh'dondra. Joel and Abe both cut hair at Lucy's Hair Salon.
No, they are not gay.
What unfolds in "A Bigger Life" is a story of one bad decision and how it affects everyone in your life, and can change your life forever. It is a warning to heed the warnings we get when we stray too close to temptations. It is the father's side of this messiness we call divorce and child-custody.
And it is a testament to the healing power of God in people's lives, and the importance of community. It is the beginning of another wonderful, simple, yet complex series by Annette Smith.
I think I forgive her now for leaving Ruby Prairie behind:-) Especially since I just discovered the Eden Plain #2 is due out this Fall.
I give "A Bigger Life" 4 bookmarks...you'll enjoy it!
Happy Reading!
Deena