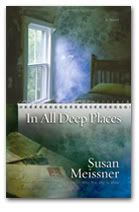 Just finished an amazing book. "In All Deep Places" by Susan Meissner is not for those looking for a neat and tidy happily ever after ending, but it is worth the journey you take.
Luke Foxbourne is a successful mystery author with a past he longs to forget. But a severe case of writer's block and a family emergency in his hometown force him to finish the story life began for him long ago.
What ever happened to Norah? To Kieran? To Tommy? The journey Luke takes us on through his reluctant memoir is both bittersweet and enlightening. What he finds at the end of this written journey isn't what he or the reader might hope for, but it rings so true, and the possibilties are endless.
Susan is an amazing author, but she pulls no punches. I have yet to read one of her novels dry-eyed! Be prepared to have your emotions rung out, your heart battered, and your thankfulness for God's mercy and grace renewed.
Break out the tissues and get a copy of "In All Deep Places".
You'll be glad you did.
Deena