All right, bloggy, booky friends!!! It's time for my humongous, incredible, and totally rockin'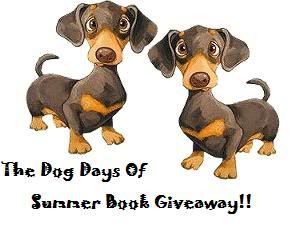 Dog Days of Summer Book Giveaway!!!
And here's how it's going to work:
1) Leave your name and post where you've promoted this giveaway, and you will be entered to win a $10.00 gift certificate for Christianbook.com!! The winner will be drawn in the first week of September!!
2) A NEW giveaway will be announced EVERY MONDAY MORNING! Leave a comment on the blog post for the book, and you might win the book!
3) Check back NEXT MONDAY MORNING to see who the winner is...
4) Check back often for more book reviews, memes, and some surprises!!
Giveaways begin TOMORROW MORNING (AUGUST 3RD)...so watch for them!
And a special note to my '60 In 6 Giveaway' winners...our daughter's car broke down and we've had some financial issues that were not foreseen...but BOOKS ARE BEING MAILED OUT TO THE LAST FEW WINNERS THIS WEEK--PROMISE!
Thanks for your patience. I do this for free, with donations accepted gratefully for postage...but I do this out of love and ministry...and sometimes unexpected things happen.
I humbly apologize to any who are offended or who felt mislead...BUT BOOKS ARE COMING!!
Happy Reading!

Sell Used Books - Have Your Books Shipped To Us For Free And Get Fast Cash Back!