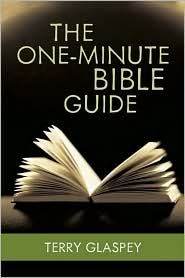 I just found the coolest book for new believers, new to the Bible readers, or those who struggle to get into God's Word...The One Minute Bible Guide from Harvest House and author Terry Glaspey!
This little book includes five minute overviews of each book of the Bible, a guided tour through the entire Scripture, a description of different translations and so much more!
Can you tell I'm excited:-)
Also in this little book are Scriptures to walk you through some of life's biggest issues. Some of the most well-known passages are referenced for you, and what I found most interesting--famous quotes from people about this Holy Book.
We have three new believers in our little church, and I can't WAIT to get each of them a copy of this book. With it's handy pocket size, you can tuck it inside your Bible cover or keep it in your purse/briefcase.
The book summaries ROCK--especially in the Old Testament. I loved the chart with the Kings of Israel and Judah. Lots of gems in this little book, I'm telling you!
This is the way coolest book I've seen for Bible reading assistance! I'm in love with this little book! "The One Minute Bible Guide" gets five out of five bookmarks with a highlighter as a charm.
Happy Reading!