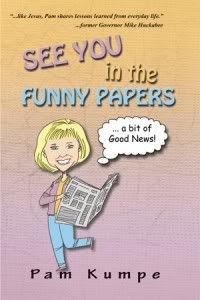 Normally, due to my reading load, I zip through my books in order to get my reviews posted. Every once in awhile, I come across a book that causes me to pause and to savor each page. When that happens, I remember the joy of reading and my heart smiles.
Pam Kumpe is a gift to me as a reader. Her humor, wit and insight are the perfect blend for the grumbly, bumbly news headlines. She's the ultimate encourager (I think her middle name may be Barnabas:-) and I love her book!
She calls herself "The Funny Newspaper Woman", and that's truth in advertising! One of my favorite people in the entire world has endorsed her book (Gov. Mike Huckabee) and he has good taste in reading.
Filled with over 70 pages of laughter, fun and inspiration, each story stands on its own and makes great "moment reading". Waiting at the doctor's office, standing in line at the grocery store, in the pick up line at your school (or drive-thru)...this book is great to grab a quick chuckle and glimmer of joy in your busy life.
I've been following Pam on Twitter, and just subscribed to her podcast. I can't say enough about her, her book, and the joy she has brought back to my daily life. I'm not quite through with this one, but our tour is ending today...and you just had to know about this book in time for Christmas!
Be watching for a full review soon...just trust me on this one:-)
About Pam:
Pam Kumpe is an inspirational newspaper columnist for the Bowie County Life / Texarkana Gazette in East Texas. She hosts a podcast "Daybreak Devotionals" a series about women of the Bible, and she has taught Kids Super Church for 20 years. She's campaigning for God with See You in the Funny Papers, a book filled with stories to make you smile and permission to have fun. She's a speaker whose antics are crazy, fun, and a little fruity - fruit of the Spirit that is.
Learn more about Pam at http://pamkumpe.com/. She is all over the web. You can also follow her on Twitter: http://twitter.com/pamkumpe and subscribe to her podcast: http://archives.zinester.com/17382.
Don't miss out on "See You In The Funny Pages". I'm giving it five out of five bookmarks, with an option to a major publisher as a charm---this book needs to be promoted to the world.
Happy Reading!