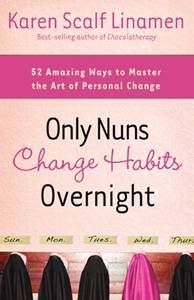 As I said in my post yesterday, this was a timely book for me. Lately, my life has seemed out of whack...disproportionate and lacking in substance. Some days I feel like my dog, Cocoa Bean...
...chasing my tail and no clue what to do once I catch it!
One of my biggest needs for change is organization. Another is to stop procrastinating, and I found Karen's thoughts on that topic particularly interesting.
Did you know that we have emotional issues behind our need to procrastinate? I discovered I'm a perfectionist--if I know I won't succeed, or even feel like I may fail...I just won't start at all.
I saw it as laziness, which is bad enough. But to realize it's actually a need to be perfect that stops me from doing more and being more was a real wake up for me! I see this tendency in my daughter as well, but she's made more progress toward changing.
Most likely because I'm constantly talking with her about her needs for change! That's something else I love about Karen's book--it serves as a great discussion starter on many areas, and would work great in a one on one mentoring relationship.
Since I love the book so much, I'm giving you a chance to win a copy! Leave me a comment sharing one habit you want to change most, and I'll draw a winner on January 1, 2009--not much time to enter! Don't procrastinate!
Happy Reading!