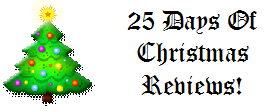 I know I keep saying this, but I'm finding some wonderful Christmas reading this year. Some have commented they thought I'd be ho-ho-ho'd out by now...but it just keeps getting better...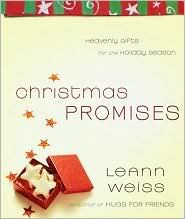 Leann Weiss is one of my new favorite authors. In "Christmas Promises", she weaves Scripture into the most gorgeous and heartfelt love letters from God (she even includes the Scripture references at the end of each page). Each letter opens a new segment of the book; either a Christmas story or a Christmas prayer.
Some of the stories shared are very personal--such as the story of how Leann's parents met. Others are about people Leann's met throughout her life journey,like Susan's story of in "The Christmas Star" or Debbie's tale in "Remembering Mary".
Every single one is guaranteed to tug at your heartstrings. Keep the tissues handy!
Considering the struggles our own family faces during this Christmas season, God hand-picked this little book for me. Each Scripture passage spoke to my heart and felt as if He was speaking directly to my wounded heart.
I'm giving "Christmas Promises" the Golden Bookmark for writing excellence, with a brightly wrapped package, complete with gorgeous, glistening bow. Just imagine what 2009 holds for you from God!
Happy Reading!