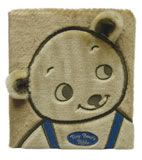 Zonderkidz is one of my favorite publishers when it comes to children's books. Just in time for Christmas, here is one of the most adorable Bibles for children!
"Tiny Bear's Bible" is the perfect preschooler Bible. Covered in soft, fuzzy fur, it will have a touch appeal that just may carry over into later childhood--knowing the Bible brings comfort and security.
The inside is the highest quality board book paging, with a Bible story title shared on the first page, with accompanying Scripture passage. Let me insert a personal note in here to parents and adults: when reading to your children from a children's Bible, take time to show them the actual Scripture in YOUR Bible.
Help them transfer the truth found in their Bible to God's Holy Word, and show them how to find it in Mommy and Daddy's Bibles. This will instill confidence in Scripture and a habit for a lifetime.
Now, back to the review!
On the opposite page, Tiny Bear reacts to the truth presented in each story. The highlighted passage is summarized in an easy to comprehend style, with a response from Tiny Bear's momma, or from Tiny Bear himself.
Again, let me suggest to parents or caregivers an idea...instead of always reading it from Tiny Bear, insert your child's name in the reading. Let him or her know that what is true for Tiny Bear is also true for him or her. Making Scripture personal at such a young age again will build a habit for a lifetime.
This adorable Bible is the perfect shower gift for a new mom, or Christmas gift for the preschoolers in your life. Take time to slow down, pick up your little one, and read to them from their own copy of God's Word...and let them see you reading yours.
I'm rating "Tiny Bear's Bible" four out of five bookmarks, with a protective cover as a charm. This is too precious to get PB&J on! Pick up your copy at your local Christian book retailer or online today!
Happy Reading!