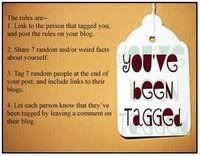 Yes, it's true...I've been tagged again! This time, it's my buddy Mimi at
Mimi's Pixie Corner
It's an old meme with a new twist...all about books:-) So, here are 7 Random Book Facts About Me:
1) My dad bought me Trixie Belden and the Black Jacket Mystery when I was in junior high and sick with the flu.
2) I've written six full length Christian Romance novels that are buried somewhere in my garage.
3) My favorite genre is suspense/mystery--the more bodies the better:-)
4) I'm slowly becoming a historical fiction fan.
5) At one point, I owned over 2,000 Harlequin Romance novels--before the ick factor kicked in.
6) I carry a minimum of five books with me at all times, because I can never make up my mind what I want to read next.
7) I have the uncanny ability to read a book and leave it in pristine mint condition and used to pull books of the shelf where I worked, read them on my breaks, and no one ever could tell or know.
Now, I'm tagging Nise', Tami, and Amy R---and any who read this post. You're it!
Happy Reading!