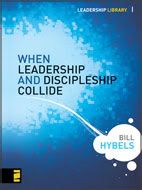 Zondervan must have a heart for the busy pastor...their new "Leadership Library Series" consists of short, quick books that truly pack a lot of meat into a tiny package. I'm privileged to review two of them...with Bill Hybels up to bat first.
"When Leadership and Discipleship Collide" is a book after my own heart. As a pastor's wife and as a Christian, I'm so tired of "models" and "projections" and "packaged plans" for churches and leadership.
I want the real deal.
Problem is, many of our church leadership are trained in how to lead. They read books, attend seminars, and watch DVD teachings (can't say teaching tapes anymore in the digital age!). All of which are geared toward proven principles of successful leadership, and which they are expected to use successfully.
Well, to that I say--Meet JESUS! The ultimate rule-breaker and model-crusher!
Mr. Hybel's book, though short, speaks directly to my heart. He traces the leadership patters of Jesus Christ throughout the book of Mark, noting an interesting pattern.
Every known successful leadership principle? Jesus does the opposite--with astounding results. Oh, not the kind of results the models predict. Nope--the kind of results the Holy Spirit produces...and that's the kind I'm growing fonder of every day!
Bill Hybels then takes us into his own life as a pastor, demonstrating how a modern day shepherd can lead like Jesus, breaking his own rules he's learned and finding success in church leadership and ministry.
Funny thing is, Bill Hybels is great friends with John Maxwell (if you don't get that, Google John Maxwell and you will!). He doesn't bash leadership principles or models. Instead, he merely shows that when follow Jesus example contradicts what you know or have been taught...
...it's always wise to follow Jesus as your Model. I can't wait to give this powerful little book to my busy, busy pastor husband! This series is perfect for those who have little time to read, but are looking for something to apply to their lives, their ministries, or to share with others.
I'm giving this one five out of five bookmarks, with a broken mold as a charm. Be watching for more reviews from Zondervan's powerful series, "The Leadership Library".
Happy Reading!