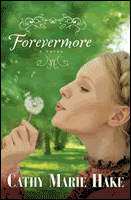 Hope Ladley goes from place to place as she feels God leads her. When she comes to the Stauffer family farm she knows she has her work cut out for her.
Jacob Stauffer, his daughter, his sister, and a single farmhand are the only inhabitants of the farm. Using the skills God gave her, Hope brings life back to this household and its family
She teaches them to appreciate the little things while leaving the worries up to God. But all too soon, Hope seems to be preparing to leave, but what if God has finally found a place for her to stay?
"Forevermore" was a great book to read. I loved the detail as always but most of all I loved Hope's view on everything. Her take on the simple and everyday activities was refreshing.
I was reminded about what it means to leave everything at the foot of the cross again. I've thoroughly enjoyed reading Mrs. Hake's books. Each one, including this last one, has shown me something that I forgot about my Heavenly Father.
Live long and prosper ;)
Tori
Happy Reading!