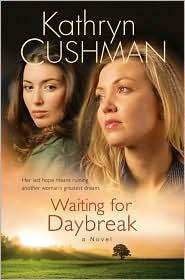 What if you knew your selfishness and manipulations could be deadly? If you knew that your hope for your own personal future could cost someone else their own promise?
Would that change your behavior? Would that impact you at all?
What if you DIDN'T know?
"Waiting for Daybreak" is Kathryn Cushman's second novel, following in the same path as her stellar debut, "A Promise To Remember". Just as her first story broke my heart in so many ways, this novel also needs to come with its own box of tissues--I'm telling you, I've found my OWN Karen Kingsbury!
Paige is out of options and nearly out of hope. After being unfairly let go from her promising pharmacy position, she's desperate to find something. Her mother's illness adds an extra portion of pressure to Paige's life, and she'll take anything to keep her family afloat financially.
When the offer of a position at a small town pharmacy opens up, what seems like a miracle restores a measure of Paige's waning faith. Clarissa Richardson needs her help, and Paige is eager to begin again and offer assistance.
But Clarissa doesn't want help--in any form. Her grandfather's promise of her own dream come true is too distant, and Paige's arrival just seems to push her own hope far out into the land of the impossible.
Clarissa's unwillingness to welcome Paige to her pharmacy turns ugly when it appears her new pharmacist has a secret she's hiding. What lengths will Clarissa go to in order to fulfill her own dream and rid herself of Paige?
With lives hanging in the balance, is that enough to show both women the importance of truth and honor in our daily living? What will it take for both of them to come out of the shadows and into the light?
Kathryn has most definitely lived up to her reputation as a crafter of stories that penetrate your heart and cause you to look deep inside to see what's hidden there. From the first page to the very last, you are gripped and wrung dry of tears, longing for your own daybreak to come.
I'm delighted to recommend "Waiting For Daybreak" to any and all fans of Karen Kingsbury's emotionally powerful novels. I'm giving this one five out of five bookmarks, with a pharmacy bottle as a charm--I'm ALWAYS going to watch my refills, for sure, for sure!
I'm also going to watch my heart motivation even more closely. I hope you will do the same.
Happy Reading!