Just when I think God has done about all He's going to do with my little blog, He goes and blows me away with another blessing! I had the privilege of interviewing the Queen of Seatbelt Suspense herself, Brandilyn Collins. BY PHONE!! Yes, she talked to ME!

I know, I sound like a groupie, but I mean, c'mon! She writes BOOKS! That ROCK!

Okay, I'm over the star-struck aspect of it all. Let me introduce you to a special woman of God who's writing talent knows no bounds except save His:


1) "Dark Pursuit" is scheduled to release in November. This is your first stand alone novel after several series'. What prompted that decision?
It's really a marketing issue. In a series, if a reader hasn't read the first or second book, he/she is less likely to pick up the third. So, when you're writing a series, even if you're on the fourth book, you always seem to still be marketing the first one.
In writing a stand alone novel, it's a fresh start each time. Readers can pick up the book and read the complete story, start to finish.
On the flip side, when you write a series and a reader gets hooked on it, then he/she will want to read them all.
2) Brandilyn, what would you like my readers to know about "Dark Pursuit" that cannot be found on your website or on the back cover?
You'll find far more story in "Dark Pursuit" than just the surface suspense plot. My stories always have another story underneath. In "Dark Pursuit" we have the underlying story of the fall of man through Satan's temptation, coupled with God's offering of salvation and redemption.
Without giving too much away, I don't do anything in my stories willy-nilly. If I choose a specific color, a verb, or a metaphor, it is chosen very carefully for a multi-layered effect.
For instance, the opening quote from Milton is there for a very specific purpose--it is NOT a random quote. So keep that in mind as you read the story.
3) Another thread I caught in this book is using your gifts and talents in unexpected ways. Darell has to use his gift as a writer to help solve a crime in real life. How has your gift as a storyteller been used in a unique way?
I don't think it's unique to me, but I have seen God use my stories in readers' lives in ways that surprise me. He has a way of pulling out things that I may not have intended or focused on that will speak to an individual. That always blesses and humbles me.
4) I hate to ask this question, but it has been with me since I read the story: what would you be doing if you weren't writing anymore?
Well, I guess whatever God had for me to do. I'm secure enough in His plan for my life that I know if He chooses for me to stop writing, He has orchestrated it for a reason. God orchestrates everything for a reason.
5) I heard you've got a new project in the works, a collaboration that is special. Care to share a bit with my readers?
This is a two book series with my daughter, Amberly, titled the "Rayne Tour" series. Shaley O'Connor is the daughter of a rock star and leads a life of backstage passes, road trips and music--with some murder thrown in, of course. Amberly and I have loved attending concerts together, and when Zondervan asked if we'd write a young adult suspense series together, we thought it would be interesting to explore the life of a teenage girl who lives in the rock world. Two things teenagers are always interested in: music and celebrities. But Shaley doesn't "have it all" as those watching from the outside might expect. Especially not after she finds her best friend on tour murdered …
"Always Watching," first in the Rayne Tour series, comes out next spring.
Our target audience is teen girls around 14-16. The faith element is woven into the story in a natural way, and it's not overly strong. Teenagers can't stand to be preached at.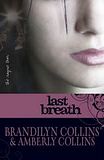 6) What else is on the burner of creativity for you, Brandilyn?
I'm also finishing up another stand alone titled "Exposure" that deals with fear--we all have fears. Exposure releases in May 2009.
7) Who inspires you?
My parents--they inspire me and and taught me unconditional love and to love God. My husband, Mark also inspires me. I respect him more than any other man I know. He is a servant and is wise and loving. He causes me to strive to be the same way in my own life. I'm blessed to have a special heritage that many do not have, and I do not take it lightly, but appreciate what God has given me.
8) Any books on your bedside table?
A novel by Jodi Picoult and Havah, a novel about Eve by Tosca Lee.
9) With so many Christian fiction novels being made into movies, let's play "Casting Call". Which book would you want optioned, and who would you cast as your main characters?
I'll say "Dark Pursuit". Many of my novels have twists that wouldn't translate well to the screen, but this one would work well, I think. I would cast Jack Nicholson in the role of Darell. Haven't a clue on anyone else--I don't watch many movies. I'm too busy writing!
10) What's up with the "Big Honkin' Chickens Club"?
This came about from readers who say they are too chicken to read suspense, which of course counts out my books. So I created a page on my website to honor those "non-fans" as a kind of reverse marketing.
I'm finding that even readers who can't handle my "Seatbelt Suspense" will still be quick to recommend me to those looking for some good suspense with a Christ based message. That's something I appreciate about bloggers and readers--they will recognize good writing even outside of their 'comfort zone of reading' and spread the word.
11) Any final word for my readers?
I'm all thought out after our fun conversation. But one thought to come back to—in my books, take time to read beneath the story.
This was amazing, and again, the opportunity of a lifetime for me! Brandilyn has been a long-time favorite author of my heart, and mom loved her books when she was here with me. Of course, now Mom knows all of the stories up there:-)
Thank you, Brandilyn for being so gracious to a little ol' blogger like me, and for sharing your wisdom and insight with my readers! "Dark Pursuit" hits shelves November 2008 from Zondervan. Be watching for "Exposure" to release Spring of 2009, as well as "Always Watching" from Brandilyn and Amberly Collins!
For my review of "Dark Pursuit", click
here
.
To visit Brandilyn's blog, click
here
.
To visit Brandilyn's website, click here.
To join the "Big Honkin' Chickens Club", click
here
:-)
Happy Reading!
Deena
P.S. DID I MENTION THIS WAS SO. MUCH. FUN!!!!