I'd like you to meet one of my favorite people in both the blogger world and the author world: Camy Tang!
1) Your romances claim to add a "kick of wasabi". Share a little about what that means.
Wasabi is green Japanese horseradish, and this stuff will sear your nose hairs right off. It's purpose is to provide a nice kick to enhance the flavor of raw fish.
And before you go "Ewwwww," it really does work. Somehow the spiciness makes the delicate flavor of the raw fish come out more. Kind of like how horseradish enhances the flavor of prime rib.
2) So far we've gotten up close and personal with Venus, Trish and Lex. Who has more of you in her?
They ALL have me in them, and the sad thing is, they have too much of what I WISH I was.
Lex has my love of volleyball and my ACL surgeries. She's also more straightforward and fearless than I am.
Trish has my former career (biology) and my dingy-ness. She also has the kind of excitement for new things and positive outlook that I wish I had.
Venus has my control freak tendencies. The rest of Venus is who I'd like to be—gorgeous, disciplined, successful.
3) Care to share who's story is coming up next and what we can look forward to?
By the end of the year, I hope to have a novella written about the fourth cousin, Jenn. I'm still wavering on the plot line, if it'll change from the blurb printed on my website. Regardless, it will be a lot of fun!
Jenn's story will be available as a FREE ebook download to members of my newsletter YahooGroup (http://groups.yahoo.com/group/Camys_Loft). I'm also intending to have it available for purchase as a print on demand copy on Amazon.
The next full novel coming out for me will be a romantic suspense titled Deadly Intent, coming out in August 2009 from Steeple Hill's Love Inspired Suspense line.
Many people don't realize that for a while when I was an intermediate writer, I wavered between writing suspense or chick lit. I love to read both and wanted to write both, but had to choose since I wanted to stick to one genre to get published.
The chick lit won out because I have a hard time being serious about anything. :)
Here's a blurb I submitted in the Art Fact Sheet for Deadly Intent, although this might not be what appears on the actual back cover:
THERE WAS A DEAD BODY IN HER MASSAGE ROOM
And massage therapist Naomi Grant is suspected of murder. She's frustrated and helpless as a web of lies closes in around her, framing her. She doesn't have time to worry about her shaky faith or think about her growing attraction to the victim's ex-husband, Dr. Devon Knightley.
Orthopedic surgeon Devon had only needed to claim his mother's necklace back from his ex-wife, but suddenly he's embroiled in a murder investigation and someone is trying to kill him. He wants to somehow protect Naomi from the trap being set around her, but can he keep them both safe against a villain with deadly intent?
4) I've read a LOT of reviews about your books (all good, BTW). The universal cry is to "grab Grandmother and give her a good shaking". What is the secret behind her persona?
I took all the stories I'd heard from friends about mothers/grandmothers/aunties who were just obsessive about getting single female relatives married off, and I rolled them all into Grandma Sakai.
Then I gave her lots of money and lots of social power in San Jose. Talk about creating a monster! That's like giving a two-year-old a bucket of paint and a blank wall.
In essence, Grandma Sakai is much worse than any real life woman could ever be, which I think is what makes her fun to read about.
And admit it, weren't you secretly glad YOU don't have a grandma like that???
5) What's your writing space look like?
Like a bomb exploded.
I stand at my computer to help my back, so my monitor, keyboard, and trackball is elevated with cardboard boxes.
I also chose to have a desk made out of a door suspended on cinder blocks so I'd have maximum surface area to mess up. And believe me, it's messy most days.
I usually have lots of paper lying around. I also have a few books stacked up. Add some bits of yarn from my knitting, a few thousand pens, and a cute picture of my dog right under my monitor, and you have my work area.
Here's a picture on my blog:
http://camys-loft.blogspot.com/2007/08/door-desk.html
6) Who would you say influences your writing the most and why do they have so much influence?
My agent, Wendy Lawton.
I won't lie—I am not a "creative spirit" who has to only write what her muse tells her to write.
I take my agent's advice on the market, on trends, on ideas that sound good or not so good. She guides me in what stories to work on, what proposals to polish. She loves my writing, but she's also a realist, and I think that in this business, you need both.
7) Who's your Biblical hero? Heroine?
Hero: Matthew, the tax collector. He had come from a dark place where Jesus forgave him and then used him for greater things.
Martha. I was doing a study of the book of John, and something about Martha's scene with Jesus when he's coming to raise Lazarus from the dead really struck me.
I delved deeper, and tried to understand why Mary and Martha did what they did at that time.
Martha ran to Jesus, and she believed. She didn't understand, but she truly believed. Mary was too upset to do more than cry at Jesus' feet, but Martha's words—almost the same as Mary's—were different because she believed Jesus and what she'd heard him say about himself.
I wrote a short story on it, and even though it's a bit unpolished, I'm still quite proud of it:
http://www.camytang.com/Waiting.html
8) If you wrote the novel of your heart, the one you were born to write, what genre would it fall in and what would be the title?
I love love love fantasy and I'd write a fantasy epic with lots of sword fighting and dragons and people with powers and magic and cool stuff. I know, not very original, but you never said it had to be GOOD. Title? I dunno. "Camy's Super Cool Epic Fantasy."
9) Whatcha listen to on your iPod these days?
Mostly audio books. I just finished Mindless Eating and thought it was fascinating because the geeky psychology major side of me loved all the studies on food habits.
10) Any books on your night table?
I have a gigantic To Be Read Pile, but literally on my night table is The Miracle Girls by Anne Dayton and May Vanderbilt.
Thanks for having me here, Deena!
Camy
Camy Tang writes romance with a kick of wasabi. She used to be a biologist, but now she is a staff worker for her church youth group and leads a worship team for Sunday service. She also runs the Story Sensei fiction critique service. On her blog, she gives away Christian novels every Monday and Thursday, and she ponders frivolous things like dumb dogs (namely, hers), coffee-geek husbands (no resemblance to her own...), the writing journey, Asiana, and anything else that comes to mind. Visit her website at http://www.camytang.com/ for a huge website contest going on right now, giving away ten boxes of books and 30 copies of her latest release, SINGLE SASHIMI.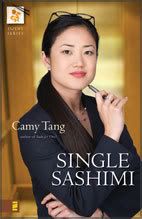 I have to admit, I'm wishing Sushi #4 was a full, hold in your hands book--this series is SO GOOD! But at least we'll get to finish life with the four Asian chicks and see how it all turns out!
Don't miss out on Camy's writing--she ROCKS!
Happy Reading!
Deena