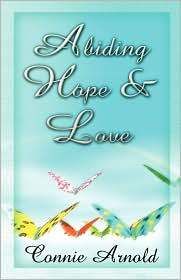 Once again, I shouldn't be shocked at God's timing! Connie's book arrived in my mailbox in time to remind me of the power of hope in times of desperate pain, and of love to heal any wound that life brings.
"Abiding Hope and Love" is a collection of poems written by Connie. Just the cover of the book alone refreshes the soul! Inside, selections are arranged by general topics such as hope, love, family, nature and many more.
Some are simple--two lines that hold so much meaning. Some are lyrical, verses you can almost sing in your heart. Connie's poems could read as blessings on a newborn baby or a new marriage just starting out.
This little book has so much depth. Perfect for morning devotional time or evening relaxation, "Abiding Hope and Love" is an excellent companion for your daily Scripture reading.
I'm keeping my copy handy for this turbulent time our family is weathering. Few things can put a smile on my face, but Connie's poetry brought a glimmer of hope to me on one of my darkest days.
"Abiding Hope and Love" is published by Publish America and is available online at most bookstores and book purchasing sites. I'm rating it four out of five bookmarks, with a gorgeous butterfly as a charm.
Happy Reading!
Deena