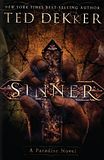 For those who've been reading Ted Dekker's amazing series, the "Books Of History", this is a stunning conclusion--or beginning, depending on how you look at it! Either way, mysteries are solved and the past and present meet in a cataclysmic battle between ultimate evil and the goodness of God.
"Sinner" wraps up a long, long journey that began so long ago in "Black". If you're anything like me, you enjoyed the premise, but found yourself scratching your head at moments during the story.
Then came "Showdown", an imediate follow up novel to what's widely become known as the Color Trilogy. Again, loved the book, but loose threads kept entangling me, robbing me of full understanding along this tale telling adventure.
"Saint" was fascinating. I devoured that one in one sitting. My kids are reading the Lost Books series (Chosen, etc.) and asking me questions about MY Ted Dekker books!
So it is with great relief that I pronounce "Sinner" a successful venture--a tying of all loose knots. Kind of:-)
Ted's introduction to this story captures the essence of the Books of History series beautifully. I highly recommend starting here, with "Sinner"--unusual for me, since I'm a 'read it in order' freak!
But these books don't form a linear line...they do circle back on themselves. The perfect ring of stories, drawing an arching line to God Almighty Himself. How Ted Dekker did this--well, it has to be God.
My husband asked me if I thought Ted Dekker had planned this all along. Quite honestly, I don't know. But if he didn't...that just amazes me all over again.
Johnny, Darcy and Billy all come together, as they did in "Showdown"...settling once and for all the mysteries enshrowding the Colorado town of Paradise...and revealing truth in a very unique way.
I did get a little lost near the end, but most likely because events were rapidly unfolding. Kind of like keeping up with this year's presidential election! Oh, and did I mention that Christians get persecuted for speaking out about their faith in this story?
A timely book, from a timeless author. I cannot recommend "Sinner" to you any more than that. I'm giving it five out of five bookmarks, with a blank journal as a charm. Write your OWN story for the ages as Jesus guides your life.
Happy Reading!
Deena