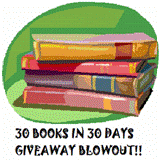 Hi Reading Buddies!
WOW! Where did the month go?? How much fun has this been for you--it's been a BLAST for me! I've met some GREAT new reading friends...hope they stick around after the giveaways end:-)
We only have
four more days
before the GIANT GIVEAWAYS begin!
As of right now,
over 80 bloggers
are entered for the $30.00 gift card to anywhere bookish.
And as of today...the grand prize winner will receive
NO LESS THAN 9 BOOKS IN THEIR BOX
! And you won't BELIEVE what I'm offering on September 30th! Even I want to win, and I own them:-)
I wish I were you....but then, I wouldn't be me, and who knows if "not me" would be this generous...I doubt it, don't you?? LOL!!
Anyhoo, all drawings will close at MIDNIGHT ON SEPTEMBER 29th....so spread the word...four days to enter counting today.
HUGE GINORMOUS GRAND PRIZE DRAWING ANNOUNCED ON SEPTEMBER 30th!
Winner will be drawn on October 7th---gives one week to enter.
In the meantime, be watching for my NEW FEATURE--Author of the Month. That promises some cool offerings and lots of good reading! Steal the graphic--I left it around here somewhere--OH! Here it is!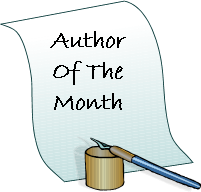 and begin posting to win a prize!
Happy Reading!
Deena