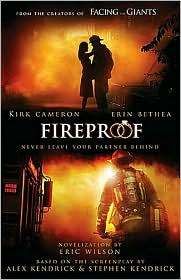 In my opinion, the creators of "Fireproof" couldn't have selected a more skilled author than Eric Wilson. Eric has a knack for capturing what's on screen and making it richer and deeper in its written form
I've never been a big fan of novelized motion pictures until the Kendrick brothers came along. Eric has penned the written versions of all the movies: Flywheel, Facing the Giants, and now their latest motion picture release.
Caleb is a hero to many. A fire captain, he saves lives and risks his own on a regular basis. But at home, he's far less than a hero. In fact, Caleb's marriage is crumbling--it's the one thing he cannot seem to save.
On the brink, he takes the advice of his father and tries "the love dare"...40 days to re-capture the love he once felt for his wife, Catherine, and to convince her there's still hope.
But is Caleb's heart really in this effort? Is it too late for them to save their marriage? Can a person really fireproof their relationship?
The movie itself is breathtaking. Take lots of tissues--the Kendrick brothers have a knack for making us cry, even when we don't want to! And the book is even more moving, capturing moments that don't translate to film, but work beautifully in the written form.
Eric can read the heart of the film and can put into words things that you don't necessarily miss--until you've read the book. His gift is a perfect mesh with the Kendrick brothers and their vision for Christian storytelling.
I'm giving "Fireproof: The Book" five out of five bookmarks, and urging you to see the film FIRST, then pick up a copy of Eric's vision of the same story. And be sure to do the same with the other films by Sherwood Pictures and books by Eric Wilson!
Happy Reading!
Deena