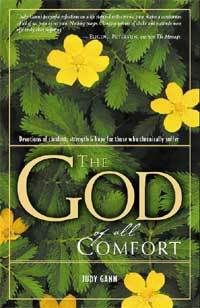 I'm one of those wacky believers who claims that there are no accidental circumstances in the life of a believer. God has shown that to me over and over again, and He has been faithful to demonstrate it to me recently through this blog.
Some would think I get books at random, and I do. But often I believe God brings them to me, for such a time as this, just like He did with this wonderful devotional by Judy Gann.
"The God of All Comfort" is a collection of devotional readings for people who suffer from chronic illness or pain. This isn't a popular topic in the modern church. Too often we are quick to claim suffering as a result of sin in the person's life, and to quote the Scripture "for by His stripes we are healed".
I believe both of those statements, to a point. Sometimes the pain we suffer is because of sin...not OUR personal sin, but the sinful world we live in. Modern greed has caused diseases to run rampant in the lives of believers and those who don't know Christ.
Judy's book takes the stigma out of chronic illness and pain and puts it in perspective. She herself suffers from fibromyalgia, a now recognized illness of the autoimmune disorder family--as do I. She also writes of others who suffer from multiple sclerosis, lupus, cancer, and other disorders.
Each reading is uplifting without candy-coating the suffering. Each is accompanied by Scripture, prayer, and an inspiring quote. And each is short enough for anyone who is ill to either read or to listen to, but each packs a wealth of knowledge, insight and comfort.
Judy has walked this road herself, which gives her authentic voice...something I look for in my authors. You can hear her heart in each and every word. This small volume was pieced together with great care, from the cover to each and every quote and devotional reading.
I found my spirit lifting in relief and my joy restored as I turned each page. This book is a must have for anyone who is suffering chronic pain or illness. I cannot recommend it highly enough!
Once again, it is from our friends at AMG...top-notch when it comes to Bible studies and devotionals. I'm giving "The God Of All Comfort" the golden bookmark for publishing excellence, and a box of tissues as a charm...but rest assured, they will be tears of relief and joy.
Happy Reading!
Deena
P.S. Check out Judy's site
here
.