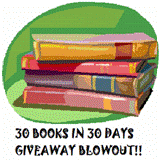 Whew! Where did September go??? Seems like only yesterday we started this blog-wide celebration! We've given away over 25 books...and we still have 5 days left...including today!
But, we're letting you dream a bit (why do I keep saying 'we'? Because you're all in this with me!!)...so, what book would you LOVE, LOVE, LOVE to win here at My Bookshelf??
I'm thinking about it...but here's today's offering:
Review? Click the cover!
Happy Reading!
Deena