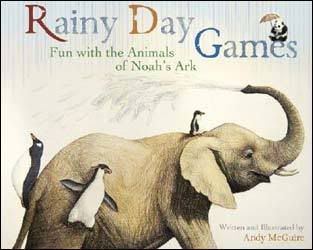 This is the most delightful children's book I've ever seen! With crisp and life like illustrations, clever rhymes and imaginative play, Andy McGuire has created a wonderful book for families of all ages.
"Rainy Day Games" opens with a brief account of Noah and the ark, then quickly dives into the pool of a child's imagination. Knowing how rainy days can create the phrase "I'm bored!", Andy gives plenty to keep boredom at bay!
From hide-and-seek with chameleons, mazes on zebras, and my favorite--tic tac turtle, this book is filled with guaranteed giggles and smiles. Each trip through the pages will bring new details and inspire your own creative games you might play with the animals of Noah's Ark.
"Rainy Day Games" is a definite keeper, and a wonderful read-aloud book for children's ministries, homeschoolers, and even beginning readers. I'm so in love with this book!
I'm giving "Rainy Day Games" the golden bookmark and voting it "Best Children's Picture Book of 2008"!
Happy Reading!
Deena