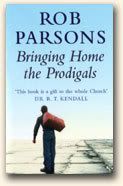 Please note that this is the UK cover
Rob Parsons genuinely has a heart for the wandering soul. His book, "Bringing Home the Prodigals" is a life changing message for those waiting with the front porch light on for your loved ones to return home.
Armed with the message of the prodigal son for a speaking engagement at a conference, Rob took a peek at the crowd and saw the pain in their eyes. He realized that God had so much more for him to say, and this book was the result.
His message first and foremost is to keep the home light burning. We must always make the pathway clear for them to return one day.
He continues on by describing who the prodigals are, and what we can do to prevent our children and loved ones from becoming the prodigal children of God. He discusses false guilt (which I have felt) and shares how to stop judging and start sharing.
Some may question what Rob writes in his book...but I have lived it. I can tell you first hand that the principles he lays out in his book work. They aren't a magical formula, but they do ultimately bring healing.
If not for the prodigal, most definitely for the ones who wait at home. For anyone who has a loved one wandering away from God, I highly recommend this book.
With short chapters, meditations and inspirational writings at the close of each section, "Bringing Home the Prodigals" is easy to read and even easy to put into practice.
I'm giving "Bringing Home the Prodigals" four out of five bookmarks, with a tiny porchlight as a charm...and it's on, just waiting for you to return home.
Happy Reading!
Deena