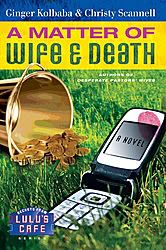 I must admit, I wasn't impressed by the first novel in this new series (
Desperate Pastors' Wives
). So I didn't 'light up' at the thought of another novel from Ginger and Christy.
Oh, how the mighty reviewer must humble herself!!
"A Matter Of Wife and Death" goes deeper into the lives of these four wives of local pastors (hereafter called PW's). I'd almost think Ginger and Christy had seen my review, because some of my concerns were tackled early on in the story. But I'm not THAT conceited!
Meet once again Jennifer, Mimi, Lisa, and Felicia--all married to pastors and all struggling to make sense of life. These four women travel many miles to meet secretly at Lulu's Cafe--away from prying eyes and gossipy church members.
The four have banded together to share good times, not so good times, and the downright 'I'm about to give up' times--with no judgement, no criticism, and no favoritism.
However, there is plenty of accountability, encouragement, prayer and support. Something I'm very glad to see in this installment of the series! As a pastor's wife myself, I know how hard it is to find someone who gets it, doesn't sit in judgment, and isn't a part of my church family.
Meet the four PW's:
Mimi is struggling with her newest addition to the family--Milo just isn't an easy baby, and she's at her wit's end on how to cope. Plus, Mark sees her as mom and wife...but does he see her as a woman with needs and hopes?
Jennifer still wishes for a baby, but nothing seems to be working out. With IVF looming on the horizon, what does her faith have to say about the procedures? And does her church family look down on her because she can't procreate?
Lisa's family is caught in the crossfire of a church battle, and her teen-aged daughter's resentment is at a boiling point. What can she do with her out of control daughter, and how does she handle the hurt she feels on behalf of her wounded husband?
Felicia is juggling family, career, and church. Her son is a habitual biter...but only at home, it seems. Can she ask her nanny for help, or will her jealousy of the woman triumph? And when her job is in jeopardy, can she resign herself to staying at home...and being happy?
Throw an unexpected death into the bunch...and there you have it! My concern about this particular book is that it almost tries to be two things at once--a book about women's relationships, and a murder mystery. But the mystery takes a quick back seat and lets the PW's relationships shine.
I'm far more impressed with "A Matter of Wife and Death" and looking forward to the third book. This time around, I felt more of a kinship with these four women, and almost longed for my time in the booth at Lulu's Cafe!
So, I'm giving "A Matter of Wife and Death" four out of five bookmarks, with a cell phone as a charm...and NOT because it's on the front cover:-)
Happy Reading!
Deena