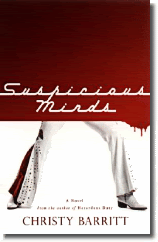 Waaaaayyyyy back in 2006, I discovered and took a chance on debut novelist Christy Barritt and her then debut novel, "
Hazardous Duty
". Best reading decision I made that year!
But I was afraid I'd seen the last of crime scene cleaner Gabby St. Clair and her rather unusual collection of 'peeps'. Needless to say (but I'm sayin' it anyway!), I was THRILLED to see a new story release in this fun, laugh out loud series!
In "Suspicious Minds", business is rather slow for the only crime scene cleaner in town. Trying to finish her degree in forensics (that last crime scene clean up really peaked her interest:-), pay off her new equipment (read previous book to see why), Gabby is forced to 'expand' her business to general clean up...
...like mold and the like. I know...ICK! I'd rather be cleaning up a crime scene...and so would Gabby!
Fortunately for her, her recent under-the-house mold inspection turns out to BE a crime scene...not once, but twice over! Problem is, while she's busy discovering a dead body, she also finds out she's now got some competition in the crime scene cleaning business.
Should Gabby join forces with Chad, as she does need a partner, even though it would eat into her profits? Should Gabby continue to date her cop boyfriend, even though he doesn't always make her feel treasured, but more of an embarrassment, and she isn't over Riley, who was sort of engaged, but not? And what about Chad, her almost new business partner?
Dizzy yet? Welcome to Gabby St. Clair's line of reasoning, fun fact spouting and wise-cracking personality! I absolutely ADORE this woman, and NOT because of what she does for a living:-)
Gabby has a lot of decisions to make in "Suspicious Minds", and a life-changing event helps nudge her towards the most important one of all. I promise, if you love to laugh while solving the weirdest mysteries, you'll fall in love with Christy Barritt and her Gabby St. Clair series!
I'm so sure of it, I'm giving "Suspicious Minds" five out of five bookmarks, with a hazmat suit as a charm...welcome, the white Teletubby (read the novel, will ya?)!!
Happy Reading!
Deena