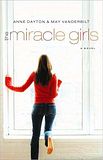 I first fell in love with this writing duo when I discovered what they call "good girl lit". The two write stories of Christian young women in situations that test their faith and prove their personalities to be genuine.
So, when I heard they were starting a series for teen girls I was thrilled! This four book series is off to a great start with the debut title, "The Miracle Girls".
When Ana Dominguez finds herself in her very first detention in her new high school, can things get any worse? Her dad's plan to move the family to Half Moon Bay and open a new law office threatened to ruin her life, and it appears her fears are coming true.
But Ms. Moore, Ana's favorite English, teacher is in charge of detention and assigns the room an essay to keep them busy. When Ana's group of four forced together comrades share "The Day My Life Changed" stories with one another, a tenuous bond begins to form.
Filled with school girl crushes and over-protective parents, on the surface you might be fooled into thinking that this is just another young adult novel for teen girls.
Don't be.
Anne and May tend to go deeper, and just seem to have a knack for getting into the hidden hearts of women, bringing hope and healing through their highly engaging stories.
I'm excited about this new series, and can't wait for the next three books to release! So, "The Miracle Girls" gets five out of five bookmarks from me, with a compass as a charm...when you seem to lose your way, there's nothing like good, solid faith based girlfriends to help guide you back to where you need to be!
Happy Reading!
Deena