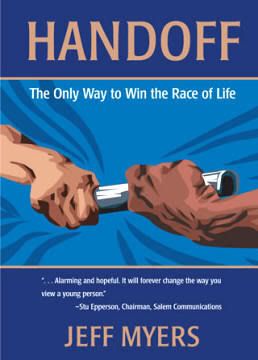 Unless you've been totally media deprived over the last few days, I'm sure you've heard about the sudden passing of news reporter and political commentator Tim Russert. I loved him! I knew he was MY voice and he was always open, honest, and excited about keeping the people informed.
Yesterday, I overdosed on comments from friends and colleagues about him. As I looked around at the news media, I wondered if anyone would be able to fill his seat on "Meet the Press", or report as unbiased as he was able to report (NO arguing with me here on this, okay?).
Later that afternoon, I picked up a little blue book titled "Handoff" by Jeff Myers--these little books have such a knack for disappearing into the mountain of books I have waiting for a review!
If I'd been smarter, I'd have reviewed this in time for Father's Day...but hey, you get what you pay for! By the way, I'm FREE:-)
This is the kind of book I wish every father, every man, every leader...and especially, every CHRISTIAN would read. Normally, it would be the kind of book that would drive me crazy--Jeff doesn't quote much Scripture, or reference it either.
But his message has resounding qualities--how well are we passing the baton to the generations of tomorrow? Some of the statistics he quotes are chilling, and I believe them since this isn't the first time I've heard them.
Mr. Myers uses concrete examples from his experiences and his journeys...such as when he traveled to speak in Alaska, the home of the Iditarod. Fascinated with the history and the nature of the race, he saturated himself in information, even going on a brief run with an experienced musher.
One sentence was so piercing at the end of that segment...you simply HAVE to read it! I've already climbed all over my pastor/hubby telling him, "You've GOT to read this book!" Of course, he's used to me:-)
So, I'm giving "Handoff" the golden bookmark, encouraging everyone to go out and buy a 'late' Father's Day gift...or a 'just read it' gift for yourself or someone you love...and let's give the next generation a great "Handoff"!
Check out his website by clicking
here
.
Happy Reading!
Deena