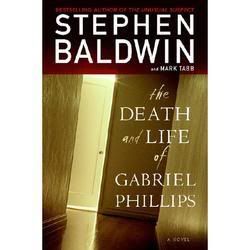 I thoroughly enjoyed Stephen Baldwin's autobiography, "
The Unusual Suspect
". His personality shines through every word, and he is the real deal. Oh, if only the other Baldwin brothers would come to Jesus!
So I was excited to see his fictional debut releasing soon.
I only wish I could give it high marks as well.
But I can't.
"The Death and Life of Gabriel Phillips" tells the story of Officer Andy Myers, told from the view of his son. While Andy never wanted children of his own, he finds himself growing attached to the son of his girlfriend, Gabriel Phillips.
When Officer Myers responds one night to a 911 call about a domestic disturbance, he didn't expect to find a little boy lying in a pool of blood...and he most definitely didn't expect it to be little Gabriel Phillips.
Distraught and confused, Officer Myers makes it his life's mission to see Gabriel's father put behind bars for murdering that little boy. Trouble is, what if the father didn't do it?
Sounds good, doesn't it? So you can imagine my disappointment that it just doesn't live up to the back cover blurp. Filled with language (four letter words and beyond), and poorly written, this just was a book I couldn't get into at all.
I don't know if it's because it's written in first person, although I normally love this style of writing. I don't know if it's the language, although this is a gritty cop drama--and I know that these books can be written well without the language.
I think it's simply the fact that the novel is poorly written. The sentence structure is awkward, I couldn't get into the lives of the characters, and I was just...bored.
You just don't know how sad I feel about not liking this book! But, I have to be honest with you...no appeal to me at all. Don't simply take my word for it. Check out Stephen Baldwin's MySpace page and see for yourself.
So sorry, Stevie B. I just didn't feel you on this one. I'm giving "The Death and Life of Gabriel Phillips" only one bookmark out of five, with no charm.
Happy Reading!
Deena