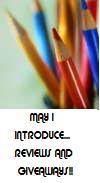 Here we are in a brand new month with a brand new theme...and our first biography is going to be our first giveaway! How cool is that?!? So, may I introduce to you Stephen Baldwin and his autobiography, "The Unusual Suspect".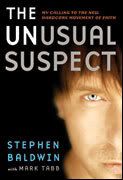 Stephen Baldwin is known as the rough and rowdy Baldwin brother. He's made guest appearances on such shows as "Law & Order", starred in a Jesse Stone movie with Tom Selleck, and came to motion picture fame in a movie titled "The Usual Suspects" with Kevin Spacey.
Lately, he's done a lot of reality television, from bullriding on CMT to the board room on "The Celebrity Apprentice". But nothing is more important than the book he has written titled "The Unusual Suspect", a chronicle of his journey to faith in Christ and his life thus far.
Stephen had it all...beautiful wife, great family, his career was taking off...he wasn't living a life of addiction and various other trials and tribulations. But one day it hit him just how empty his life was, and that was the first step on his journey to Jesus Christ.
Stephen's testimony of how he came to Christ is worth reading on its own...but his life as a believer of genuine and honest faith is what impressed me the most. See, when God saved Stevie B (as he is known to fans and friends), He redeemed him, He transformed him...
...but He left him Stevie B! And Stephen Baldwin's out loud personality is all over this biography, making it one of the most entertaining, informative and fascinating ones I've ever had the privilege of reading.
Be warned...he does use some language that some would find offensive. Problem is, it fits who the Baldwin brothers are...rough and tumble brothers of Hollywood who take no prisoners and never back down from a challenge. He's real, he's honest, and his faith in Christ goes to the bone.
I rejoiced at learning how his family is responding to his faith in Christ...but I'll leave that for you to discover on your own. I highly admire Stevie B, and my kids know it! While I may not agree with every method he uses to get the Gospel out to the youth of today, I do admire his dedication to God's call on his life.
Pray for the other Baldwin brothers. I want to see the entire clan come to Christ, and then Hollywood, watch out!! I'm giving "The Unusual Suspect" six out of five bookmarks, with a tiny Brahman bull as a charm...in memory of Stevie B's broken collarbone:-)
Wanna win your own copy? Leave me a comment telling me which Hollywood celeb is on your prayer list, and I'll pick a winner next Friday!
Happy Reading!
Deena