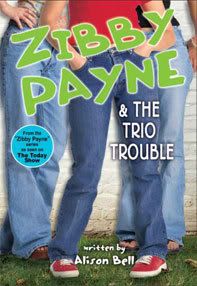 Alison Bell's tween series has been featured on The Today Show, but I somehow missed that broadcast. However, thanks to Lobster Press I didn't miss out on this wonderful new series, and I'm happy to tell you about it!
"Zibby Payne and The Trio Trouble" is the fourth book in the Zibby Payne series. At this point, Zibby and Susan are now best friends, and Zibby has decided to make wiser decisions regarding her friendships and her own behavior (don't know why...I'm missing the earlier books, but I'm sure it's a great story!)
When Susan is asked to introduce a new girl around the school, she asks Zibby along with her. Both girls are excited about meeting someone new, and they are pleasantly surprised when they meet Gertrude. She's exactly their kind of friend!
Too bad Gertrude and Susan don't quite hit it off as well as Zibby and Gertrude! Thus begins the typical relationship issue of how to be best friends when there are three of you. Zibby pulls out all the stops to keep both her OLD best friend and her newest one, but can she do it?
Girls in middle school and up will appreciate this story of friendship and struggle. Alison has great life lessons woven into these engaging stories, and I only wish I had found this series sooner!
I'm giving "Zibby and The Trio Trouble" four out of five bookmarks with an iPod as a charm. Just FYI, there isn't a strong faith message in this book, but the principles are Biblically based, with even a lesson on lying and how it comes back at you when you try it.
Happy Reading!
Deena