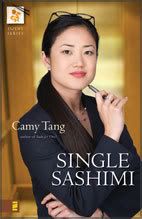 Camy Tang is rapidly becoming one of my Top 10 chick lit author favs! In this third installment to the Sushi Series, we get up close and personal with Asian cousin number three, and she's the cousin I most identify with.
"Single Sashimi" is Venus' story. Struggling with weight all her life, Venus is finally thin, chic, and in control.
On the outside.
Rejected by her mom, an object of ridicule early in her career, and now an object of lust and manipulation by her male colleagues, Venus still struggles with self-acceptance and failure.
I can SO identify with her! I was a chubby kid growing up, struggling with weight all my life. Dad seemed to always love me more when I was thin, and a little less the heavier I became. Failure wasn't an option, and if the church asked you to do something, you ALWAYS said yes, no matter what.
So, even though I knew my dad loved me, I never felt like he really knew me or accepted me. And that's what Venus feels from most of her family, colleagues...and in some ways, even from herself.
She's also unique. She works in the world of game design, and she is the reigning queen of innovation and creativity. She can whup anyone at any game known to mankind, and is working on her own design tool that will revolutionize the gaming design industry.
But espionage and deception are also a part of her world, and as a woman with deep rooted insecurities, she's lost her feminine nature in order to compete in what is primarily a man's world. Does she have to be so rough, tough and vicious? Or has the enemy robbed her of her worth in Christ, leaving her vulnerable to the world's standards?
Of the three cousins we've meet so far, Venus is by far my favorite. Camy has a talent for taking the most flawed women and letting loose the power of God in their lives via her pen (or PC!), then slowly letting us watch their amazing transformation.
She also creates such unique women in her stories: Lex was into fitness and athletics, Trish into science and biology, and now Venus is a gaming design queen. Makes me curious as to what Jenn will be into!
But each woman, while appearing strong and capable on the outside, is deeply wounded on the inside. Each has issues with body image, sexuality (and not in the "ick" way), and identity in Christ. Grandmother STILL makes me want to slap happy her, but she's kind of growing on me.
With such a wide variety of personalities and careers and issues, there's a little something for any woman to like! I don't see these women as whiny; I see them as wounded, and I see myself in bits and pieces of all of them.
Camy has created a winning series, and I cannot wait for the fourth book! But, you'll have to wait for "Single Sashimi" to release September 2008 from Zondervan (so sorry:-). Till then, I'm giving it five out of five bookmarks, with a bottle of Pine-Sol as a charm!
Happy Reading!
Deena