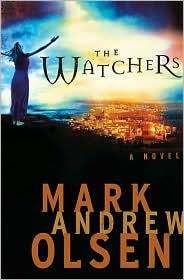 I've never endured so much spiritual oppression trying to read a novel! But since we're reading "The Warriors", the sequel to this first story, for CFBA soon I wanted to get "The Watchers read. I just HATE jumping in the middle of the movie, or the series!
But this wasn't an easy read. I found myself reading it as a white, middle class Christian woman and I just didn't get it. Until the middle of the book, and then everything kicked into gear and by the end, I fell in love with this story and cannot wait until the next book gets here!
For generations, women have existed who were given the gift of "The Seeing", also known as "The Watchers". Of African descent, these women were able to see into the spiritual realm. Unfortunately, they have slowly been losing their "sight" and dying off.
Until now.
Abby Sherman has "the seeing"...and she's a wealthy white young woman in America. She's not sure what has happened to her, so she posts her dream on the internet at her MyCorner website, and generates a lot of attention.
Too much attention.
Someone wants Abby dead, and she wants to know why. With some help, both willing and unwilling, she travels to Nigeria and discovers she is the first of her kind. Or is she?
From a spiritual gathering of Nigerian women to the jungles of the same, to London and back to America, the journey is long and twisting and winding. The end result is a shocking revelation that sets the tone for the second book in this amazing series that raises the question...
...what are we missing out on because we hold back and don't let God flood our lives with every spiritual gift He has for us? And how much could we accomplish as His children if we had believers among us like "The Watchers"?
I'll leave that to you to decide. But don't miss out on this story, and be watching for my review of the much anticipated sequel. And come with your cup empty, compare it to Scripture, and remember...this is FICTION. Enjoy it!
I'm giving "The Watchers" five out of five bookmarks with a passport as a charm...and it's NOT a fake one!
Happy Reading!
Deena