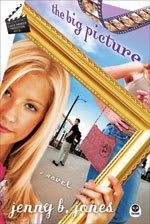 You've just gotta love Jenny B. Jones and her character creation, Katie Parker! The wit, the humor, and the love floods every word. Reading these novels is not just good reading...but it's FUN!
Although, I cried buckets in this one as well as laughed:-)
Katie has finally settled in at the Scott home and in the tiny town of In Between. She's surrendered her life to Christ, and life is getting really, really good for Katie. She's come a long way, and it shows.
Which is why it is such a shock when Bobbie Ann Parker, Katie's mom, shows up to claim her daughter.
Released from prison and attending rehab, she says its time to take back her daughter and to recreate their family. Or so she says. But it's up to the social worker and CPS as to what will happen to Katie.
Talk about living "in between"!
Plus, there's a dilemma with Charlie...are they or aren't they together? And what is up with Chelsea, his ex-girlfriend? And Francine is bent on saving the town's drive-in from demolition...which puts a strain on their friendship a bit. Toss in her foster gramma's rejection of her long time beau and then her regret after the fact...
Maybe leaving In Between wouldn't be so bad after all...or not.
When the decision is made to send Katie home, life really takes a different turn. Get a look at drug addiction and dysfunctional parenting up close and personal. But Katie has the stuff to get through it, thanks to the GOG (gotta read the book to find out what THAT is, but it's WAY COOL!).
This is one of the most delightful young adult series I've ever read. My 18 year old daughter fights me for the books when they come in the mail, and she is devouring the series as well.
For young teen girls who have struggles and issues in their lives, Katie is a great role model...well, maybe not in the first book:-) But eventually, she really grows up and takes on the troubles in her life through God and His strength...
...and that's fun to watch:-) I'm giving "The Big Picture" six out of five bookmarks with a bucket of popcorn, extra butter as a charm...get plenty of napkins for this one (you'll need them for the tears!).
Happy Reading!
Deena