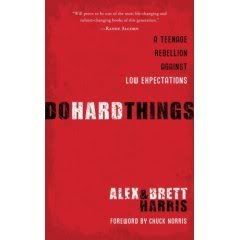 With this generation's motto seeming to be "Don't just do something...SIT THERE!" (had to think about that one, didn't ya:-), this book flies in the face of apathy and ignorance. Both are deadly to ministry and effectiveness, and both are infecting today's youth and today's church.
Alex & Brett Harris wrote this book in response and defiance of that message. Paul told Timothy not to let anyone look down on him because he was young, and it's about time the church learned that as well! Not that our youth are to be filled with arrogance (the Bible has just as much, if not more, to say about learning from those who are older and wiser).
But we need to realize the treasure we have in our young people. The vision, the drive...the ENERGY!! And they need to realize it as well, which is what this book is designed to help them do.
Endorsed by one of my heroes of the faith, Randy Alcorn, he states this "...will prove to be one of the most life-changing and culture-changing books of this generation."
I agree.
Problem is, this isn't rocket science. But don't be deceived by the simplicity of the message. As simple as it is, too many are missing it. Don't you miss it as well.
I'm not quite ready to give you my review, but I am ready to tell you this is a book worth investing in.
And it's worth giving away as well...which is why I'm giving away TWO COPIES to someone who leaves me a comment. I'm drawing the winners May 1st, so don't just sit there...DO SOMETHING!!
Watch for my review later this week! To purchase a copy (or two or three or four), click
here
.
Happy Reading!
Deena