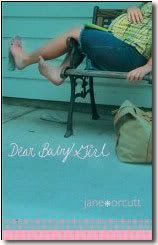 Jane Orcutt is with Jesus now, but her work still lives on. Personally, I'm praying this book never goes out of print! It's short, but it packs a huge punch with heart and soul, and is a gorgeous portrait of God's mercy and provision.
"Dear Baby Girl" is the story of unwed, pregnant 15 year old Merrilee Hunter. Shunned by the people of the small town she grew up in, Merrilee has chosen to travel to Austin, Texas to a home for unwed mothers.
There, she will give her baby up for adoption. She's picked the family, and she's on her way to meet them. But there's so much more to this story than what I've told you.
Along the way, we find out more about Merrilee's background, how she became pregnant, and we see into her heart in ways that we fail to when it comes to people in real life.
We meet the potential adoptive parents, and we get a look into infertility that we don't often pay attention to when it comes to people dealing with the issue in real life.
This book is an attention getter. It forces us to look beyond circumstances and see the people behind those circumstances. It puts a genuine face on issues such as unwed pregnancy and infertility, but transcends all of that to the point of demonstrating God's grace and mercy in ALL situations.
But this is an older novel, printed in 2002 and reprinted in 2005. Pray it never goes out of print. This generation needs this message. OUR generation needs this message. For such a tiny novel, it packs a powerful punch. Kind of like "Baby Girl" does for these characters.
I'm giving "Dear Baby Girl" six out of five bookmarks, with a dog collar, complete with tags...you'll know why!
Happy Reading!
Deena