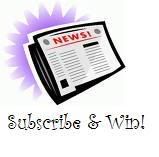 This new giveaway is SO simple, it should be outlawed! Here are the rules:
1) Subscribe to my blog.
2) Leave me a comment telling me you've subscribed.
3) Watch your blog feed for the winning name.
And That's It!
Oh, what will you win?
A prize package including:
"Spa Treatments for Your Body and Soul"
Dove chocolates
"What The Bible Is All About For Women" by Lisa Harper
A gift card to Bath and Body Works ($10.00 value)
A gift card to Starbucks ($5.00 value)
and a copy of the best book I've ever read...
"The Beautiful Fight" by Gary Thomas
So, how's that for a prize package?? And all you have to do is go to the top of my blog, click "subscribe", and let me know you did.
Simple.
I'll draw a winning name May 1st...perfect time for such a package as this:-)
Happy Reading!
Deena
Edited to add: If you're already a subscriber...just let me know...and you're entered!!