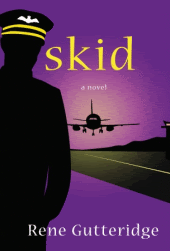 By now, you know I'm absolutely in LOVE with Rene's series, the "Occupational Hazards". The third book in this amazingly creative series is "Skid", and it's a winner!
Hank Hazard is shy, quiet, and thoughtful...which made him a perfect mime. But now that his parents are gone and the family clown business has been sold, being a mime won't help him get a job.
So he steps out of the box and applies for the position of airline quality inspector: basically, the James Bond of the skies. His first job finds him in VERY interesting circumstances!
On board flight 1945 is a jittery diamond courier, a jilted female in polka dots, a highly suspicious inspector, and a pot-bellied pig.
Did I mention the dead body?
Hilarious entertainment ensues once this novel takes off (it was a bit like a delayed flight at first:-). Hank is sincere in his faith, and he has a calming affect on the rather rattled passengers. And, after this particular flight, I'd "hazard" a guess that he'll take to the skies again and again!
I adore the Hazard family, and this is by far one of the most creative and innovative ideas for a series yet. With several more siblings to go, I can only hope Rene can keep her creative juices flowing.
I'm giving "Skid" five out of five bookmarks, with a set of wings as a charm. Who would have ever thought of putting a pig on a plane? Don't miss out on this series!
For my review of "Snitch", click
here
(sorry, but I read "Scoop" before my blogging days:-)
For my interview with Rene, click
here
.
"Skid" will hit bookstores May 2008, and is published by Waterbrook Press!
Happy Reading!
Deena