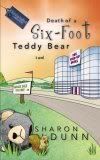 I introduced you to the Bargain Hunters mysteries during our Cozy up with a Cozy mystery month. I'm please to introduce you to the second book in this fun cozy series, "Death of a Six Foot Teddy Bear", a story packed with more fun and adventure than its predecessor!
Ginger and her three bargain hunting companions are at it again. They've started their own Bargain Hunter website and blog, and the hits keep coming...both in cyberspace and in real time.
In Calamity, Nevada for the Inventor's Convention at the Wind Up resort, Ginger keeps running into roadblock after roadblock. First, Earl's booth is surrendered to a higher bidder. Then, a body turns up...dressed in a teddy bear costume that is...you guessed it...six feet tall.
Finally, Ginger gets too close to the answers and gets sent unconscious down the gondola river (long story!) and has to make her way back to Earl and the gang. Trouble is, even when she's there in body, can she reconnect emotionally and spiritually?
Who killed the teddy, and what could have been the motive? Who now owns the Wind Up and who wants it? And how is Gloria, the resort owner's first wife, involved? 'Cause you KNOW the first wife is always involved somehow:-)
Sharon Dunn writes with wit and tongue in cheek humor, as well as a winding road to the solution to the mystery. Along the way, pick up bargain hunting and money saving tips that will put a spring in your step...so you don't trip over any dead bodies like the BHN keep doing:-)
I'm hoping we'll be seeing much more of Ginger and company, and if I can work it out, we'll have an exclusive interview with Sharon tomorrow. Till then, I'm giving "Death of a Six Foot Teddy Bear" five out of five bookmarks with a teddy bear charm...used to collect them, but now I'm into turtles and frogs (don't ask!)
To purchase your copy today, click on the cover above!!
Happy Reading!
Deena