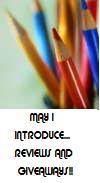 As we come closer to the end of Biography month at My Bookshelf, I have a rather unique book to share with you...and it's a book that just might save your life...or the life of someone you dearly love...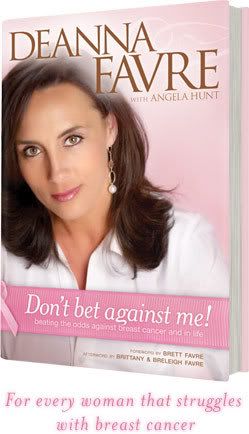 Deanna Favre (pronounced Starve), wife of Superbowl Champion and player for the Green Bay Packers, Brett Favre (Go Green Bay--they're my team:-), has written a book that is both personal and informational in "Don't Bet Against Me."
This autobiography, written with the help of Angela Hunt (an incredible author--if her name is attached to a project, you KNOW it's good!), is more than just a story of Deanna's life. It's more than her story of breast cancer.
Deanna's story is rich with helpful information for women facing breast cancer, a diagnosis, or walking along side someone who is in the battle. She has even included a tear away chart on self examination of your breast that you can remove and post anywhere.
From her growing up years as a girl in Mississippi to the fame and stardom that comes with being married to one of the most talented and hottest football players, Deanna has always been rather quiet and personal. But she opens up about her life, her choices, her marriage, and her treatment in such a manner that this book reads like two friends having coffee together.
She's included fun things like "Ten Things Every Woman Should Know About Football", to the more series topics such as "Fighting Fatigue", something that plagues people enduring chemo and radiation.
The book closes with two epilogues, each one written by Deanna's daughters. Both brought me to tears. This is a woman who is blessed, and she knows it. Not because of material wealth or fame, but because of her deep relationship with Christ and with her family.
But this story is also about much more than breast cancer. It's about her relationship with her husband, Brett Favre, and his battle with addiction. It's about being a single mom and raising a daughter when you don't know where the money for milk is going to come from.
It's about a woman's walk with Jesus, hand in hand through the good and the bad. And Deanna also shares about her foundation for HOPE that helps women afford cancer treatment, groceries, rent, or just help with housekeeping. Some of the proceeds from this book help to fund HOPE.
Whether you're fearful you may have breast cancer, you just found out you do, your in the middle of treatment, or you're the support for someone who has breast cancer, this book is an amazing and appropriate gift. I myself got the call every woman dreads: "We found something abnormal in your mammogram and need you to come in right away for more tests."
This book brought me comfort, knowledge, and was my companion through those uncertain days. And as I said earlier, this book could very well save lives through the information shared, and through the testimony of its authors. I'm giving "Don't Bet Against Me" seven out of five bookmarks, with a pink Packers cap as a charm.
To Deanna and Angela...thank you both SO much for collaborating on this life saving and life changing project!
Happy Reading!
Deena