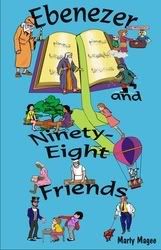 "Ebenezer and Ninety-Eight Friends" is a refreshing and entertaining devotional book written by debut author Marty Magee. With unusual insight (which I LOVE) as well as quotes and tons of Scripture, Marty has taken an old standard and given it a refreshing look.
Some are thought-provoking, like "Ebenezer Was No Scrooge", about the Biblical meaning of the word "ebenezer" and how it applies to our lives today.
Some are funny, such as "Cracker Box Decisions", a humorous look at making decisions.
Some are precious memories with a spiritual twist, such as "Find Your Separator and Start Turning Where You Are". And with 99 selections to read, you're sure to find some wisdom that touches just the right spot in your heart.
I find "Ebenezer and Ninety-Eight Friends" the perfect book for family devotions, or for children's devotions at church. I'm giving it five out of five bookmarks, and I wish I could sit down and have coffee with Marty...I think we'd get along brilliantly, 'cause I love the way her mind thinks.
This book is published by Lighthouse eBooks. Order a copy for your family and start the new year off right!
Happy Reading!
Deena