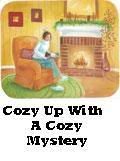 Yup, we're headin' into another cold and stormy week here in Northern California, so I thought we needed a good warm up...so how about another new Cozy mystery series, a new author to take a peek at, and that giveaway I promised you last week...hmmmmm???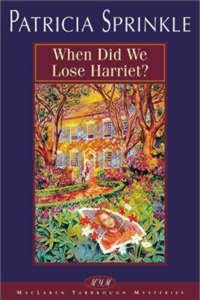 Now, this is actually quite an old novel. I read it years ago, and fell in love with Patricia Sprinkle and her quirky heroine, MacLaren Yarbrough. In "When Did We Lose Harriet", Mac flies to be by her brother's bedside after he had a heart attack.
While there, Mac is encouraged to visit the local youth center and to temporarily fill in for Jake. Mac reluctantly agrees, then discovers a mysterious library book that leads to a young girl that has vanished.
Problem is, no one noticed Harriet until she has disappeared. Is Mac, a complete stranger, the only one who cares that Harriet has gone missing? And how in the world can a young teen vanish so completely?
This isn't the best of the series, but it is worth a read. And it kicked off a huge series titled "Thoroughly Southern Mysteries" that now encompasses over ten titles and is now published by Signet Mysteries.
Not heavily Christian, but most definitely clean and entertaining, I highly recommend Patricia Sprinkle and her "Thoroughly Southern Mysteries". She has also started a new series titled "Family Tree Mysteries", which I'm in the process of getting.
These books are so much fun, I'm giving the entire series five out of five bookmarks, with a glass of sweet tea as a charm, complete with mint sprig! Pick up a copy of "When Did We Lose Harriet" if you can find one...or start with "Who Invited the Dead Man?" (book #3).
Keep reading for our NEXT Cozy Mystery Giveaway!!!
Happy Reading!
Deena